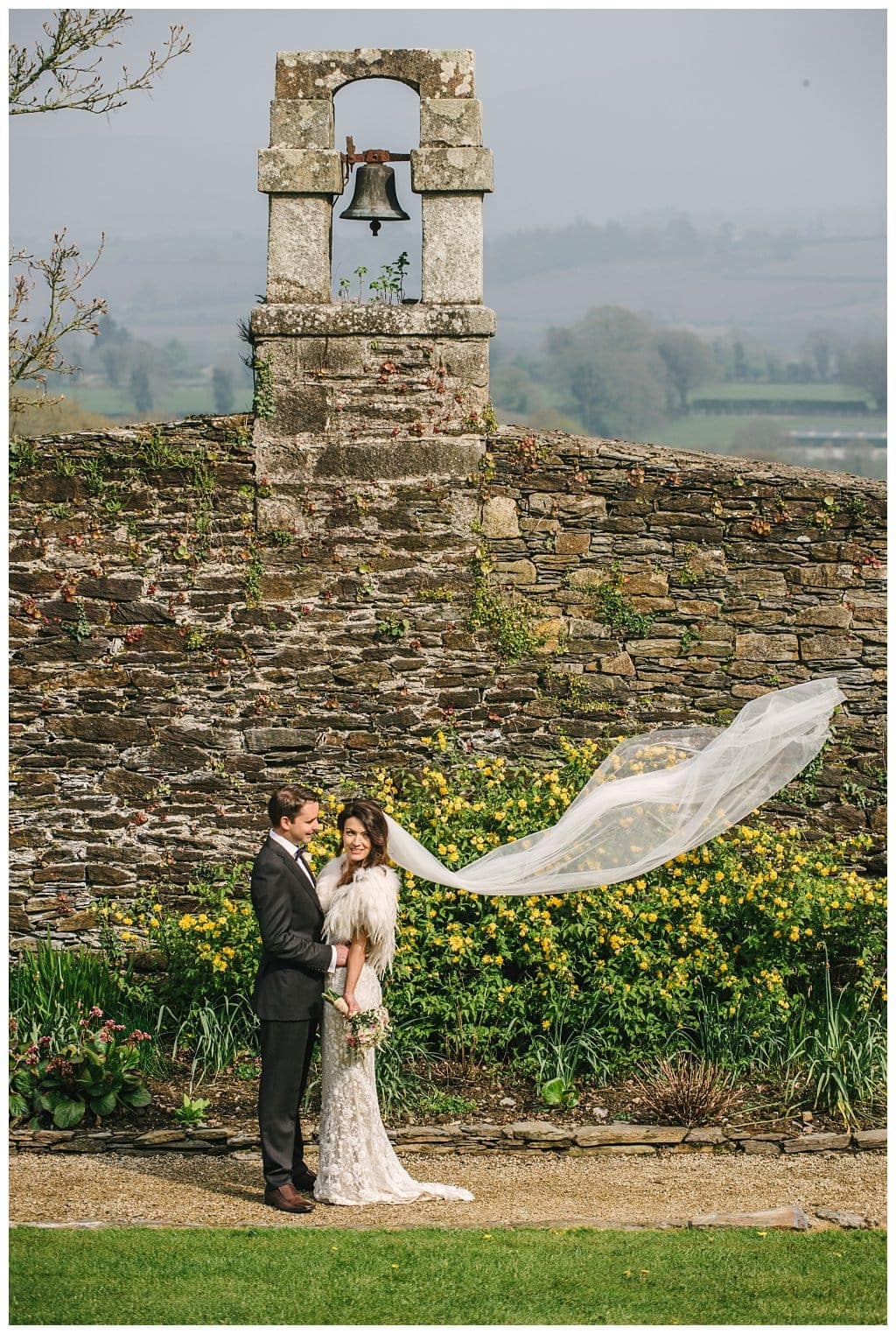 "…so it's not uncommon to find people in pyjamas with raised phones in the air like mountain goats trying to find the best grass…"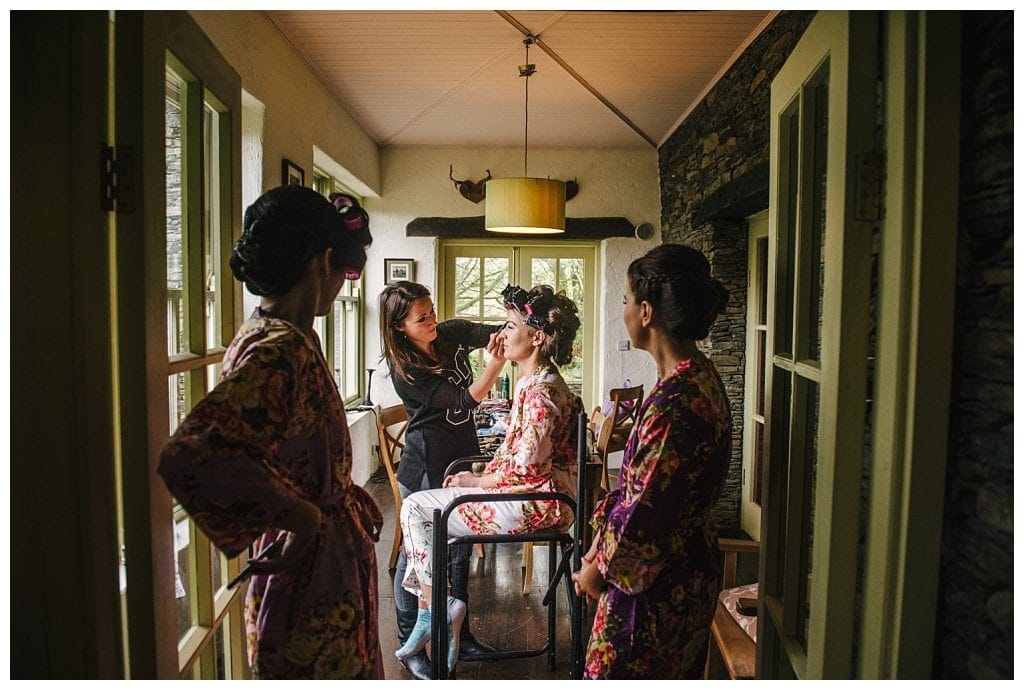 What can i say about being a Ballybeg House wedding photographer but "absolutely love it!" Corinna and Ealron oozed style and sophistication as they swooped into Wicklow for a whole day of wedding festivities. It was a brill day for wedding photography with overcast clouds and moments of brief sunshine and rain. Nothing out of the ordinary at all for an Irish wedding photographer.
It was great to be back into Ballybeg House. Starting off the day at Grouse Lodge, a little cottage up the way round the bend on a brief 10 minute journey that has me thinking I'm lost every time. There's no reception up the mountain either so it's not uncommon to find people in pyjamas with raised phones in the air like mountain goats trying to find the best grass. That's when you know you've arrived.
Great craic with Corinna and bridesmaids at Grouse Lodge who had everything organised and under control with lots of laughter and smiles. Also nice to bump into Ailbhe Lynch the Make up artist , she's a true pro and had the party relaxed and in capable hands with her artistic flair.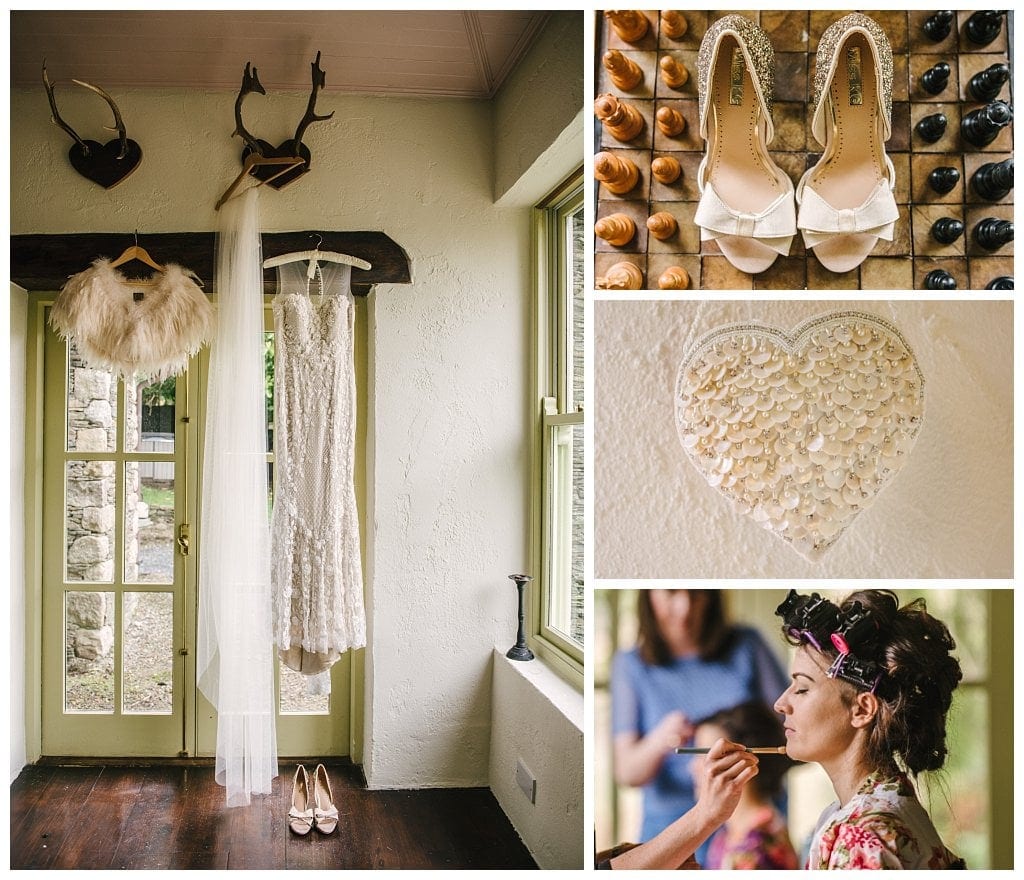 Met up then with Ealron and the lads, I was given a gift by Corinna to pass onto Ealron. It was a photo album of all their holiday snaps they had been "meaning to put together". It really was a lovely gesture and was a nice way to get to know them a little better too.
Back to being a Ballybeg wedding photographer and Tee set me straight with the logistics of the day. She's such good fun at being a wedding planner, a real pro at keeping things ticking along and setting up the rooms for the day. More about her good self here – Pairs and Peaches
The ceremony was held in the converted stables/barn. It's an atmospheric spot lit by mostly candles. A real pain in the arse to photograph if I'm being honest. You generally only get one chance to get the shot as it has to be lit by flash and you don't want to be popping off your flash like the strobes on a dance floor. Others choose to use the available light but you'll be struggling to get a good print from it. Anyways, I digress, it's very much a romantic setting that's very intimate and really highlights the couple with it's mood lighting but I was glad to see again when we got outdoors.
Corinna and Ealron were real troopers, they wanted lots of wedding photography and I was only too happy to oblige. Even towards the end of the night we were outside with sparklers and an enthusiastic yet slightly pyromania-cal crowd.  Loved it and can't wait to be back!
Thanks Corinna and Ealron for letting me be a part of your day and for the blog.