AWARD WINNING
PORTRAIT & WEDDING
PHOTOGRAPHER
IRELAND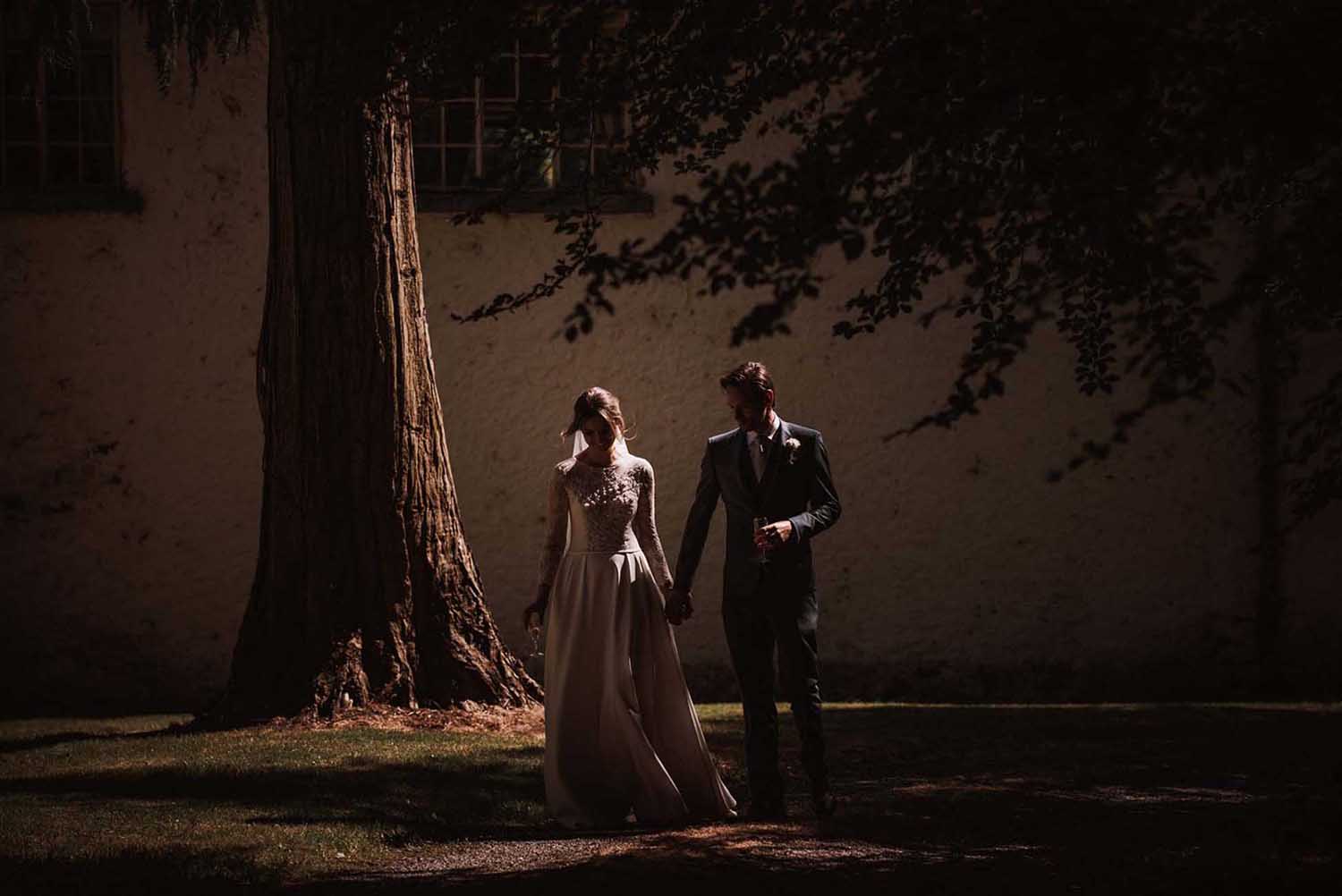 Wedding photography across Ireland
As it happens, moment by moment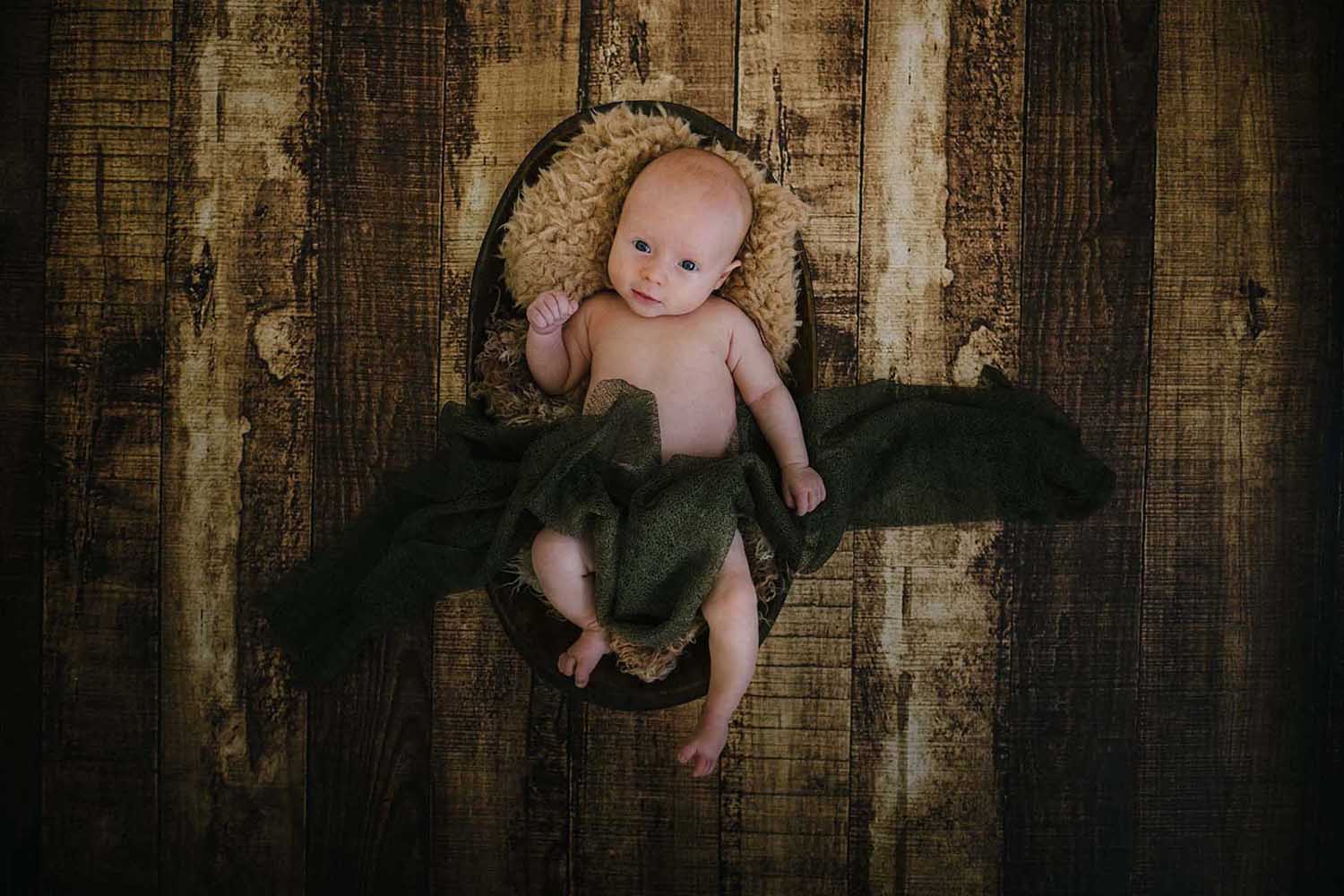 Newborn portrait photography
Family portraits across Ireland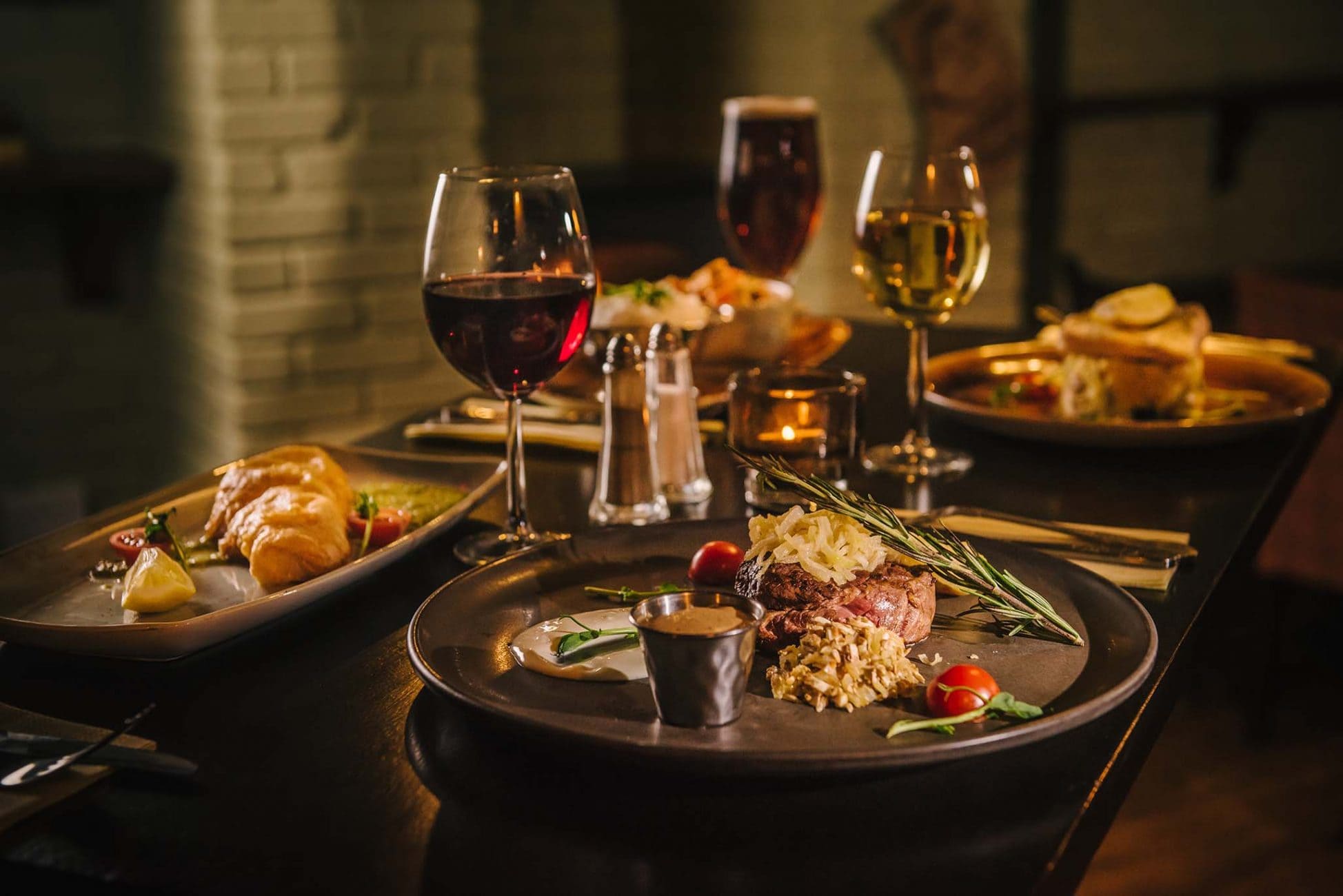 Commercial Shoots
Food photography
Engagement Shoots
Lets always remember the engagement
I'M NEVER IN ONE PLACE I ROAM FROM TOWN TO TOWN
Cause I'm a wanderer, a wanderer
I hop right into that car of mine and ride around the world - Dion
HELP I need SERIOUS immediate answers!
FAQ's
QUESTIONS I GET ASKED ALL THE TIME
Let's start by saying "I love family wedding photos".  They're the photos that are going to definitely make the album, parent's love them and so do the rest of the family. Why? Because people have posed, they're in the right position, in the right light and as long as you're not a toddler, chances are you're giving me your best smile. It's the first thing that greets me when I call around to the bride or groom's house in the morning. Family wedding photos adorn the walls and stand on the desk hall thingymajiggy. There's nothing more homely than seeing family photos from the bygone era. If there are shoulder pads and perms then even better!
So, why do family wedding photos get such a bad rep? It's like they're the bad boys when it comes to wedding photography. Annoying and frustrating people to no end. Honestly, when it comes to all aspects of wedding photography, the one thing couples always say is "I don't want to spend ages taking the family photos". So how do we get around that? How do we turn those anxious thoughts of hours spent in front of the camera with your family to something a lot more fun?
Well, it's easy. Here are some tips:
Plan out the Family wedding photos.
I have a simple checklist that will let you tick the boxes. Then you'll get a good idea of the time required. The more family combos the more time is needed. Here are the photos that make the walls and albums.Couple + one side of the family
Couple + parents
Couple + siblings
Couple + family + partners + kids
Couple + grandparents I can already hear you say

"My ma would like all her brothers and sisters and their family. She's one of twelve and they're very close."

That's not a problem. We can do it. It just needs to be organised.
 Organise and Delegate
Here's why we have bridesmaids/groomsmen. They're your best mates and most of the time they're family too so get them to round everyone up and keep them in check. If Uncle Johnny has a tendency to nip away to watch the game then make sure you keep tabs on him.
We'll set a time for the photos well before the wedding day itself so that everyone is on the same page. Speaking of pages, I'll be bringing a copy of the family photo list and you'll get a copy too. Let's try to keep to the list first. We can go crazy once the main photos are done. Even get venue's dog in for a photo if you like.
How long do the family photos take?
I'll be chatting to you on the lead up to the big day on a number of occasions. This gives us the opportunity to plan out the day when it comes to the photos. With my prerogative being to spend an efficient amount of time on the family photos so as to allow you to enjoy the rest of the day. I'm also presuming you're booking me for my documentary style and a few epic shots in between.
Where to take the Family wedding photos?
Here's where it can get tricky. I would always recommend getting them right after the ceremony before people move onto the venue and start checking into their rooms. Especially if it's winter. Light disappears fast. However, this doesn't always work. For example, the church may not be the most scenic spot outside or perhaps the light shines directly on the door causing you to squint a lot. Sometimes, the church is perfect but it's pouring rain or there's a galeforce wind. Then we've no choice but to head to the venue or take them indoors to the altar. Which again might not be the best spot due to Class 6b decorating it with hand drawn pictures of themselves holding the world for their Confirmation. Or perhaps Jesus is looking particularly forlorn on the cross that day. So, we photograph at the venue. Our Plan B and again everyone involved knows the drill because you've got the best bridesmaids and groomsmen at your side.
What about photos with friends?
Yeap, we can do that too but I'd recommend towards the end when all the essential photos have taken place. If you book me for the Full Day then I'd recommend after the dinner when the craic is almighty and you're gearing up for the first dance. Sure the band takes about an hour to set up…sometimes more…sometimes a lot more (that's another post)
Saying all the above, there is one very important thing to remember. It's your day, I can only guide you and I'm fine if things don't go according to a plan. Some of the best weddings I've attended have been 100% chaos and it's been a great laugh with great stories. As long as you're enjoying the family wedding photos then that's all that matters.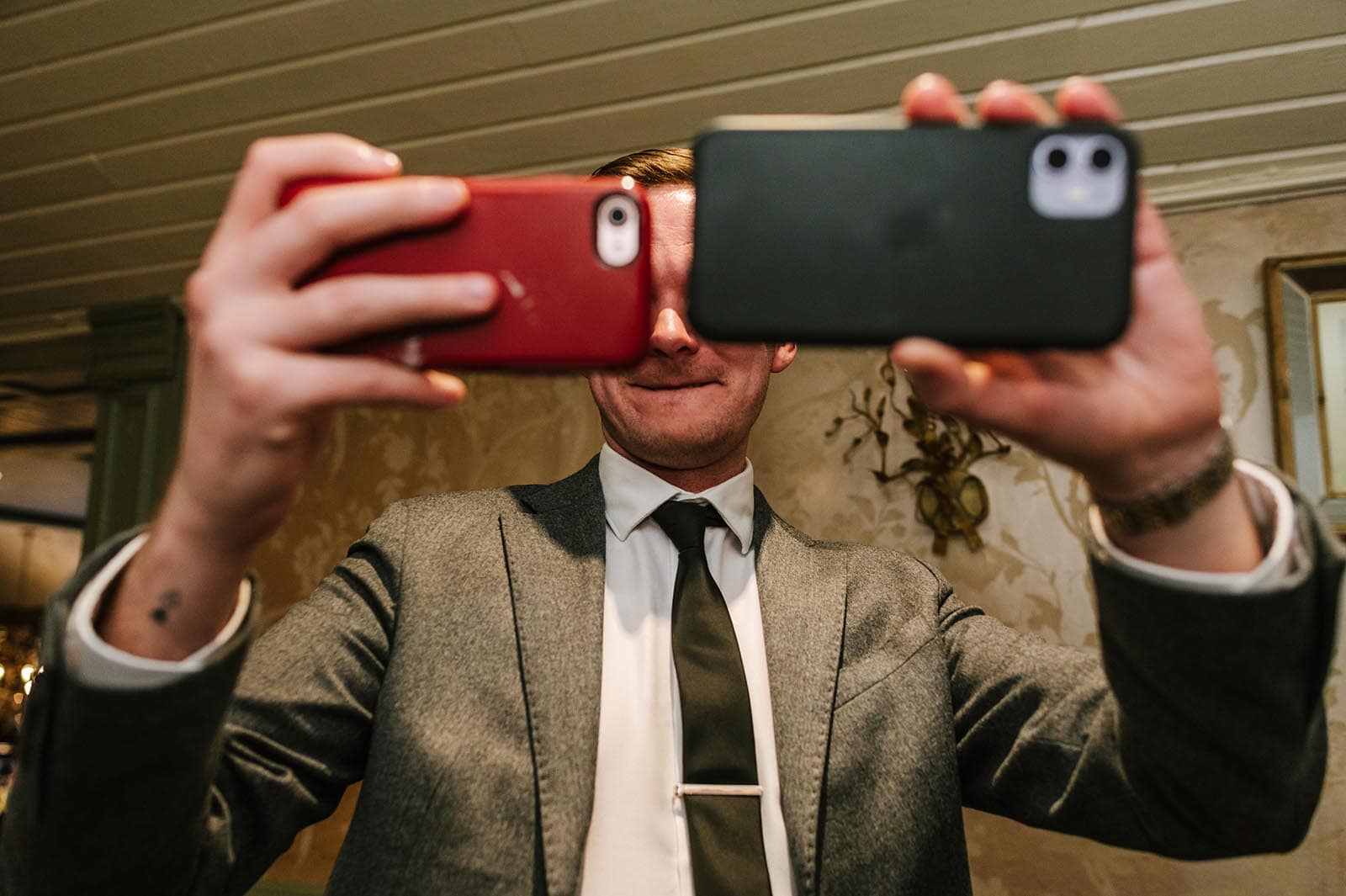 Tough answer. The short answer is anything between €1700 – €2500 for a Full Day's work for a good photographer. However, there is so much to consider.  It's like asking why is a pint of Guinness in Temple Bar Dublin €6 and not around a fiver like most counties? The answer being a €6 pint may not be the best tasting stout but it includes the cost of live music in a venue with huge overheads. It's the same with Irish wedding photographers, their cost value is based on their services, experience and awards.  At the top end of the scale a wedding photographer who works exclusively with Irish celebrities is going to cost a lot more than most wedding photographers in Ireland. However their photos may not necessarily be the best. But they do know how to relate to someone that might otherwise have you tongue tied. They also have NDAs (Non Disclosure Agreements) to adhere on the day.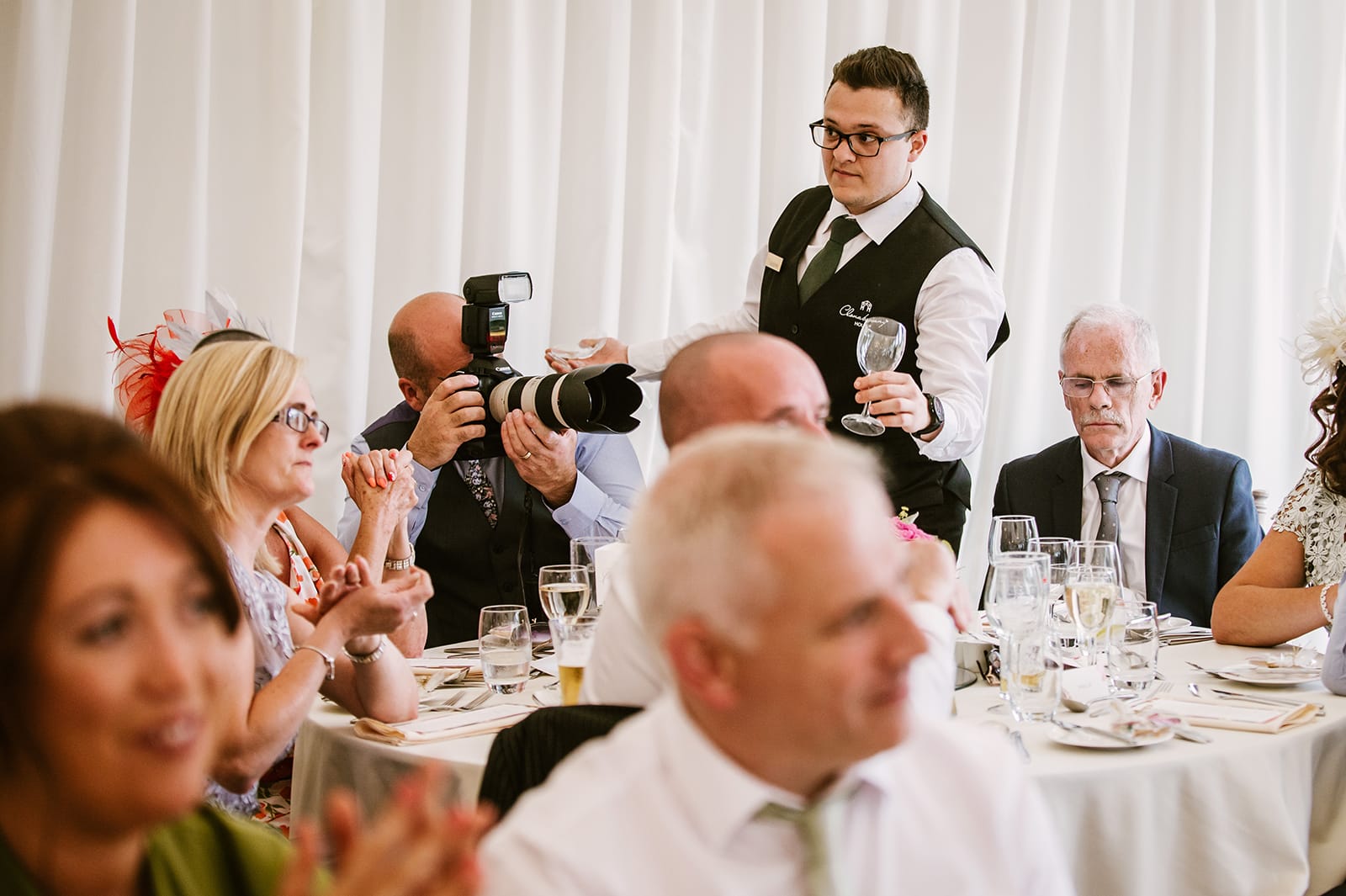 So each Irish photographer will have their own overheads to cover from type of gear, studio rental, insurance and mouths to feed at home. But costs also go up based on experience, awards and availability. Some photographers have no studio and have an affordable mortgage in the middle of Ireland. They may also be working as a part time photographer. All these factors are taken into consideration when a wedding photographer sets his or her prices. A lot of photographers will state that the "cheaper the photographer the less the quality of a service you will receive". I'd somewhat disagree, there are some amazing wedding photographers in Ireland that aren't charging an arm and a leg. They have their reasons, some don't want to bother with the work that goes behind social media.  Sometimes it's cheaper to lower your costs and not be on Instagram 24/7 to attract new customers.  Others are just starting up their business but have an amazing eye for wedding photography and some just don't do advertisements. They work solely on word of mouth and don't fork out thousands on Google ads and online directories. However there is merit in that the cheapest photographers come with risks, like any trade, you have to ask what's the catch when the deal is too good to be true. We've all heard the horror stories that come with booking a cheap wedding photographer such as this poor couple in Fstoppers article.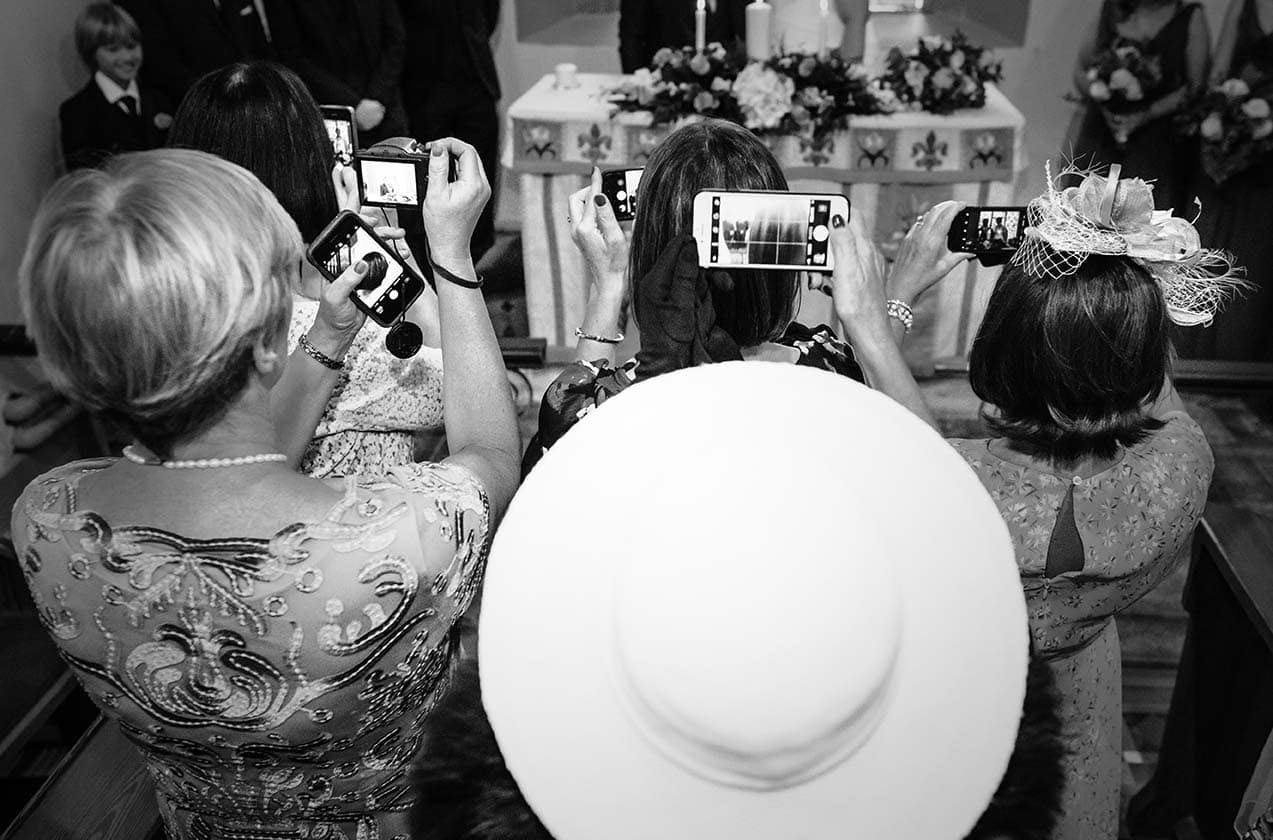 So rather than talk about the cheapest wedding photographer or the most expensive wedding photographer. Let's ask "how much should you spend on a photographer?" Well, according to the many surveys done by One FAB Day , Weddings Online , Confetti and Lovin , Irish wedding photographers cost between €0 – €10,000. Yeap, that's the scale we are working with today, from a photographer willing to work for free to build a portfolio to a photographer with award winning images of the latest celebrities. For most of us that want good photos with a well established photographer then you'll be spending in the region of €1700 – €2500 for a Full Day's work. I fall in that category. The most important thing though is "Can you relate to the photographer's portfolio?" If you want to see yourself in his/her photos then pick up the phone and call, because the 2nd most important thing after the style of photography and budget is "How do I know my photographer won't be an absolute eejit on the day?"